Wednesday, November 29th, 2006
---
7:44 pm
8:15 am -
tytal was right
I do think I have a future chef on my hand. Sorry it's so dark - no flash. Look what my little boy woke up with this morning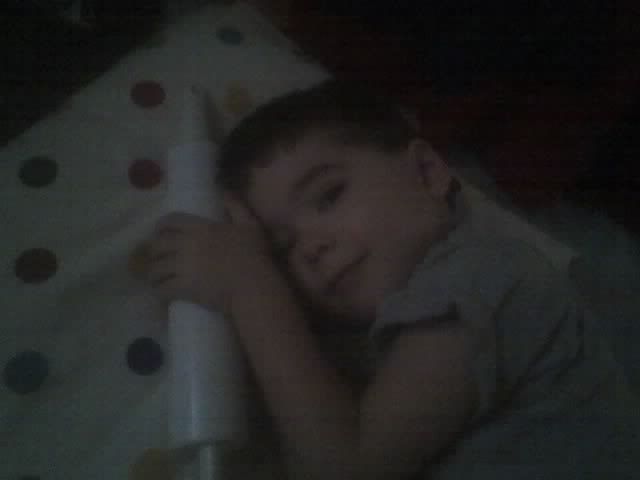 Tuesday, November 14th, 2006
---
1:47 pm
- What's my deal today?
Tuesday, November 7th, 2006
---
12:41 pm
- The Breakup, a movie review by Pav
I can sum it up in one word:

AAAAAAAAAAAAAAAAAAAAAAAAAAAAAAAAAAAAAAAARRRRRRRRRRRRRRRRRRRRRRRRRRRGGGGGGGGGGGGGGGGGGGGGGGGGHHHHHHHHHHHHHHHHHHHHHHH!

Ok, that's better. Now, if you have any taste at all, avoid this movie. It was painful and tedious. It was not funny. And I didn't care about either of the main characters enough to consider it tragic either. It. Was. Just. Wrong.

Both thumbs down.
Monday, November 6th, 2006
---
6:59 pm
- Brown Sugar Oatmeal Pancakes
Makes ~ 10 med sized pancakes

1 1/4 c quick cook oats
1 c ww flour
1 c all purpose flour
1 tsp baking soda
1 tsp salt
2/3 c brown sugar packed
2 eggs
1/4 c oil
2 c coconut milk

Combine dry ingredients in one bowl. Beat egg, oil, and milk in another. Stir into dry ingredients until moistened.

These are thick, so it takes a while to cook. But I got more rave reviews this evening when I made them for dinner. The coconut milk was a substitution, since I still had extra on hand, and worked really well.
Sunday, November 5th, 2006
---
8:16 pm
- Pumpkin Coconut Loaf
(Adapted from a recipe on allrecipes.com)

1 c all purpose flour
3/4 c ww flour
1/3 c white sugar
1 c brown sugar (packed)
1 c pumpkin puree
1/2 c oil
1/3 c coconut milk
1 tsp baking soda
1/2 tsp salt
1/2 tsp nutmeg
1 tsp cinnamon
1 c flaked coconut

Preheat oven to 350 degrees. Grease and flour loaf pan.

Combine all ingredients but coconut, and mix until flour in incorporated. Fold in coconut.

Bake 1 hr 5 mins, or until toothpick comes out clean. Remove from oven, and cover with foil immediately, letting loaf steam for 10 mins. Remove foil and turn out onto wire rack. Loosely cover with foil and allow to cool.

This has got the be one of the moistest loaves I've ever made. Everyone at the house gave it big thumbs up.
Wednesday, November 1st, 2006
---
9:32 am
- Our Toy Story Halloween
Tuesday, October 17th, 2006
---
8:35 pm
- I really lean left
It hits me every once in a while how much I favor my left side. Three of my four tattoos are on the left. My anklet is on the left. I have two bracelets on the left and none on the right. And from where my nose was broken way back when, even *it* seems like it goes left. :)
Monday, October 16th, 2006
---
7:34 am - Music meme from
smackalalala
Go to music outfitters and type the year of your high school graduation into the search function. Retrieve the Top 100 songs from that year. Strike through the songs you hate(d). Bold the songs you like(d). Underline the songs you love(d). Leave blank those you don't care about or don't remember. Annotate at will.



(

All I wanna do is make love to youCollapse

)
Thursday, October 5th, 2006
---
3:23 pm
- Fuck you Direct TV
I waited a week for installation, and three hours after they were supposed to be here called to find out where they were. This began three hours of phone time, factoring hold times, and two disconnects. At the end, it was determined that the couldn't find which contractor had my installation, so they would have to reschedule in another week. I said no, to cancel the order.

Which was frustrating enough. But now here's where they can bite my ass. They're holding my $200 deposit. At the time I said to cancel the order, I was told it would be refunded in 3-5 business days. Today, business day 7, I call, and am told because it wasn't taken against a credit card, but a debit, they have 60 fucking days to refund it. And that I would have my $200 back BY NOVEMBER 22. It took them ONE HOUR to pull the money, but they can't return it for TWO MONTHS?
Monday, July 24th, 2006
---
9:44 pm
- Music fiends!
Help me find a place to download (yes, I'll pay dammit!) the song Brilliant Mind by Furniture. It was from the Some Kind of Wonderful soundtrack. Pretty please? I've been singing it for like three days now

"I'm at the stage where everything I thought meant something seems so unappealing..." See?
Saturday, July 15th, 2006
---
11:14 am
- Hi guys
Miss me? Thanks to good old Mercury, I managed to kill the computer I just got back up and running. The past week has found my household without a working computer, and being that I'm rarely at work these days...I did manage to kill the bigger tv too, but Kacie brought it back up.

I'm being put on partial medical leave here at work. I won't go into what all I've been through lately, since I really don't have the energy to rehash it all. There is no official diagnosis yet, though. The hematologist/oncologist dude is incredible. I've spent the past two days at his clinic going through tests, and have a few more for next week too. Let's just say I've had three different IVs in three days...yes, my wrists are more sore than usual!

I miss you all :)

Mama Pav
Wednesday, July 5th, 2006
---
9:55 am
- Wow, you got some sun!
From both my daughter last night, and from a coworker this morning.

How do I tell them, no, I haven't? I just smiled and shook my head...and tried not to cry.
Saturday, July 1st, 2006
---
11:09 pm
- You made me do it
And you know, cause you're reading it now:

Friends only. My words are not for you. Go away now.
7:16 am
- And one more for the road
I'm headed into work for month end, but some of you love me enough to care about my health ;)

Not my heart this time. The echo says no myopathy now. I still have to go back for a stress test in July, since it's been nearly four years since my last one. The new cardiologist is sending me to the hematologist/oncologist, and to a new internist (since I was looking for one). Hemaglobin was 8 when they admitted me last week. I'm now up to five pints of other people's blood in 3 1/2 years.

The MRI on my lungs showed some "nodules" but he said that wasn't what was causing this. He said it was something to watch, and I had to tell both new doctors. But dammit, I haven't had a cigarette in over four years! I don't think that's the problem though.

I'm still very weak, but with all the family in the house now, it's easier for me to rest at work :)
Friday, June 9th, 2006
---
10:10 pm
- Smiley Smile
I found a Starbucks card in my wallet, with $1.92 left on it.

Hmm, what else is hiding in here...
Monday, June 5th, 2006
---
8:32 pm
- This has been bugging me
Yes, it's trivial, but it's been getting under my skin dammit.

Comcast has an advertising campaign called the Slowskys, a husband and wife turtle, and their son (I think). I love turtles, but these two whine about how fast Comcast's high speed internet is, so they went back to dial-up.

Half the commercial is done in their kitchen.

With a fucking microwave behind them.

Why?

Is this really what Comcast needs: hypocritical, suburban reptiles?
Sunday, June 4th, 2006
---
8:58 am
- Color me very surprised
Monday, May 8th, 2006
---
8:03 pm
- What I really need to do is find myself a brand new lover
Saturday, April 29th, 2006
---
6:51 pm
- Daddy needs to take his daughter potty
This bit of parenting advice has set my brain a'going. Dr. Ruth Peters questioned five pediatricians to get their opinion on what to do when Daddy has to take his smaller daughter potty somewhere without a family potty. The consensus was for him to take her in the mens' room, shielding her from the urinals.

So, as I mentioned, I started thinking, because this idea does not sit well with me. Why not have him take her in the womens' room instead? We do our business with the doors shut, and generally keep the potties cleaner.

But then I started seeing myself as not necessarily the mom here, but a random potty-goer. Would I be creeped out by having a man and a little girl in a stall next to me? What if I didn't have any children of my own?

So many things to think about, and none of it really affects me, given that I'm a single mom, and my daughter is now perfectly capable of a solitary excursion to a public restroom.

What are your thoughts?

xp to my lj